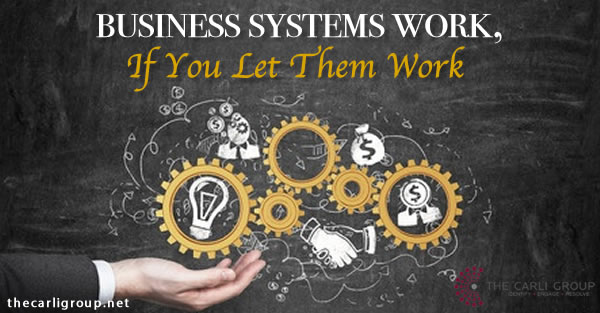 850,000. No, that's not the amount of cars traveling US 19 each morning, but it's probably close! 850,000 represents the amount of small businesses that closed their doors in 2012, according to the Small Business Administration during the last year that they tracked the number. Furthermore, additional studies over the past three decades show that 50% of all registered business do not survive the first 5 years. A 50/50 fail rate!
The Missing Piece
Why is that? Do these companies have horrible products and services? Are the aspiring owners terrible people? Doubtful. What they probably lack are business systems. Business systems are the process by which we consistently operate each and every facet of the organization, or the clearly defined rules of engagement.
My Experience
As a young business person, I had no idea of this concept. I had money in the bank (at that moment), most of the bills were paid, so I believed I must have been doing well. And for a short time, that's okay for new business owners to believe. But what happens when entrepreneurs want to move beyond that phase?  If he or she is being honest and transparent, the answer is simple, but not easy. Systems are required and necessary.
Systems
The development of processes that each and every team member can duplicate and streamline becomes the focus. For me back then, it wasn't the development that was difficult, it was trusting my team and delegating tasks that required me to let go of the reins.  My advisor once stated, "Michael, the systems work – when you allow them to."  Let go, and let your team grow. For most business owners, they're just a simple decision away from growth and success!
Realizing your need for business systems is a huge first step. Once you put them into place, then you can trust that your company will grow and that your team will effectively implement the processes needed. The systems work, when you let them, so that you don't have to!